Custom Aprons
Household kitchen essentials like customized aprons afford you a great opportunity to promote your business or organization's message in clients' homes.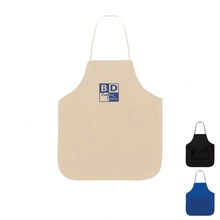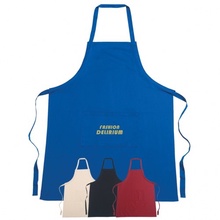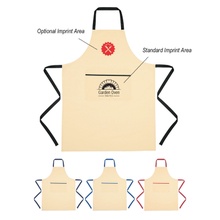 Promotional Aprons
Home cooking and grilling is more popular than ever. With more and more amateur chefs experimenting in the kitchen and at the grill, it is logical that a custom printed apron or oven mitt will get plenty of use. Whether the apron is embroidered with a logo or carries a message of appreciation, the protection it provides during a quick meal or weekend BBQ will be noted. Companies and organizations can hand out custom aprons as part of a summer picnic or to commemorate barbecue themed events such as The 4th of July or Labor Day.

Custom aprons are a unique alternative to t-shirts and hats at family reunions and other gatherings. Church, family and alumni organizations can welcome each member to a reunion get together with an apron that has been imprinted with their crest, logo or slogan. The apron will be a source of pride each time it is used after the event, making a backyard barbecue into a celebration of their membership.

Businesses in the food industry can advertise their brand on personalized aprons. From barbecue restaurants to cooking supply stores, a custom apron will be a sought after item for loyal customers. Looking to identify with one of their favorite locations for food or supplies, these customers will appreciate the promotional apron as a free gift or even look to purchase one.