Custom Sewing Kits
As a business promotion, custom imprinted sewing kits make for a convenient and memorable product. A handy item to have while traveling or at the office these promotional giveaways are always their in a pinch. Sewing kits feature colored thread, needles and other useful sewing accessories.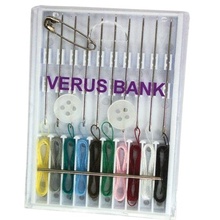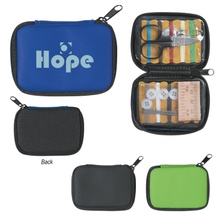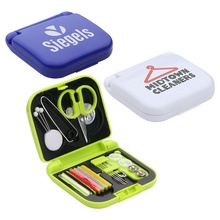 Personalized Sewing Kits
We have all found ourselves in need of one. A little tear on a jacket or pant leg while sitting in an airplane seat or office chair. The value of a sewing kit is enormous when in need. A small travel sewing kit can serve to provide a quick fix on the go. Promotional sewing kits put a logo or message in view when that need arises, associating it with the relief that the item provides.

Travel related services will find that the custom sewing kit is one of the most appreciated promotional products they can hand out. Either on its own or as a part of a larger giveaway, sewing kits will quickly become part of a client's travel sundries. Providing a needle and thread on a moments notice, these budget friendly giveaways will be used and reused, delivering the customized message each time.

In addition to travel services and hotels using sewing kits to promote their brand, companies can use them as trade show giveaways. Most trade show attendees are in fact travelers, making them very willing to receive such a convenient travel tool as a giveaway.