Promotional Desk Calendars
Custom desk calendars are a classic promotional product that customers, prospects and employees will appreciate. Available in a number of styles and materials, these desk accessories are convenient promotions as well as unique employee gifts. A great way to kickoff the year, custom desk calendars will keep your logo in the customers eyes year round.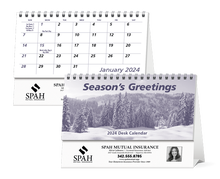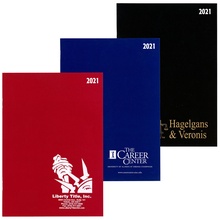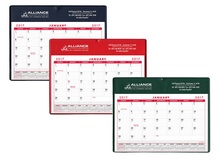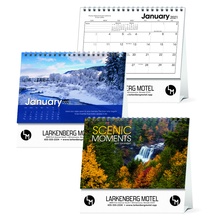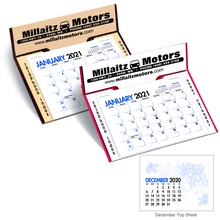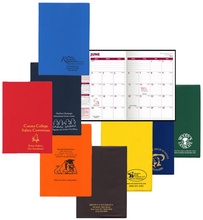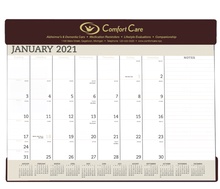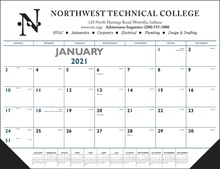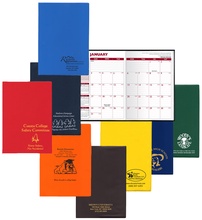 Custom Desk Calendars
Leave your name and contact information on the best possible real estate...your target market's desks. Imprinted desk calendars allow you to advertise every day in the place where most executives and employees make decisions. The ultimate desk accessory, calendars provide an easy to reference resource that still persists, even in this high tech world. The ability to grab a pen and make a note, flip to future months and look back at past events is a great benefit of these reliable tools.

Many custom desktop calendars feature peel off monthly sheets with photos or humorous cartoon themes, creating a daily laugh for recipients. While other desk calendars rest on easels making them viewable from any point in the room. A custom logo can also get daily exposure from full size desk calendar pads which have added benefit of protecting desk tops from scratches or pen marks. Book style desk planners can be used as note pads as well, making the trip from the desk to the meeting room with ease.

Custom desk calendars will continue to be one of the great groups of promotional items because they expose not only your logo, but contact information for all to see every day of the year. Becoming a "go to" reference tool will ensure that the custom imprint gets a maximum amount of impressions.