Custom Dry Erase Boards
Custom designed dry erase message boards provide an almost permanent display for your message or logo. The perfect promotion for PTAs, school clubs and organizations, dry erase boards will be handy additions to the refrigerators of families and a convenient way to keep school related notes visible. Financial institutions and insurance companies will also find value in using these custom dry erase boards to promote their services.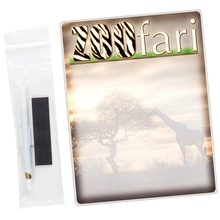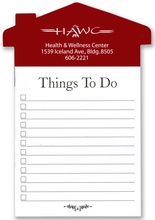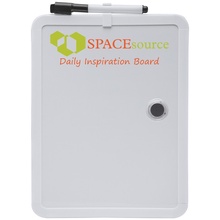 Promotional Dry Erase Boards
Dry erase boards perform a very unique function. Their reusable nature allows users to jot notes on them, important messages and to-do lists. Right next to the notes lies the custom imprint of the promotional company that handed the dry erase boards out. This pairing of custom imprint with note space creates a large number of focused views for the message. Receiving a personalized dry erase board, whether it is a magnetic or sticky backed board, will likely result in the recipient placing it in a prominent place such as a refrigerator or file cabinet, increasing the visibility.

As a community outreach item, schools, healthcare organizations and emergency services will find that custom dry erase boards fit their promotional needs. Parents can post the dry erase boards, complete with the custom imprint, in an easy to access location, providing a quickly viewed emergency number or contact information for school. Emergency services can distribute dry erase boards with contact information for a variety of situations. Poison hot line, 911, suicide prevention and other numbers can be printed on this easily referenced promotional item.