Custom Pill Organizers
Pill boxes are one of the most convenient promotional products a health care organization, doctor's office or pharmacy could distribute. Custom printed pill boxes provide an easy and safe way for a patient to keep their medication in order and reduce the amount of dosing mistakes. Pill boxes are much more than a low cost giveaway, they actually contribute to the health and well being of the recipients.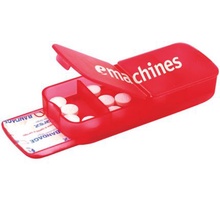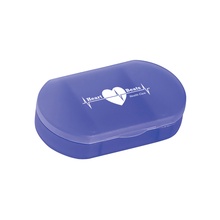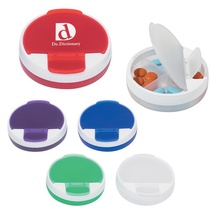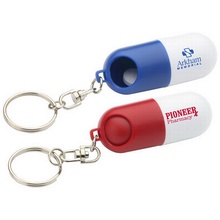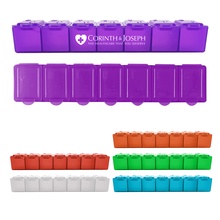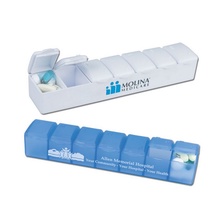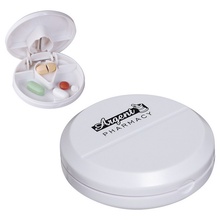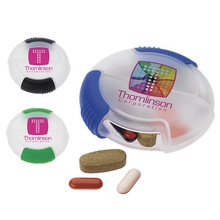 Custom Printed Pill Holders
Taking a pill every day can become routine, an easy thing to remember by associating the dose with a meal or other daily task. But having to take multiple medications at different times throughout the day can become confusing, especially for elderly patients or parents who must keep track of their children's medication. Custom pill organizers can provide a bit of relief and order to the challenge. Available in a number of different configurations, these promotional pill boxes and pill holders keep daily doses segregated for a day, week or entire month, providing an easy way to keep track of multiple medications.

Elderly patients, whether on their own, in nursing homes or at assistant living facilities can often lose track of their daily medications. While they may not be to the point that they need a nurse or nurses aid to administer their pills, it may become confusing for them and their caretakers as to what medications to take and when. Receiving a promotional pillbox from a doctor's office or health care provider is more than an advertisement; it is a valuable tool for helping keep medicine in order and to promote dosage safety.

Pill boxes can feature a number of additional functions that make them even more valuable to recipients. A pill holder key chain can provide an easy way to keep a daily dose on hand for use on the run. Pill boxes that feature built in pill cutters allow patients to customize their dose off of lower cost, higher dose pills. Travel pill holders can even come with retractable cups to wash down the pills.