Health & Safety Education Promotional Guides
Hand out innovative and informative pocket sliders and other personal information featuring important health & safety topics and tips on heart care, nutrition, safety and more. With your imprinted logo and contact information, they make great handouts at health fairs and medical centers.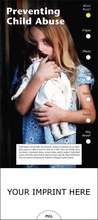 Promotional Slide Guides & Handouts
Health care organizations and hospitals are always looking for effective ways to promote health initiatives. Often constrained by budgets, low cost solutions to reaching patients and communities are always prioritized. Custom printed health education sliders and pocket guides are a budget friendly way to educate a wide range of health, wellness and safety concerns.

Sliders, with their question and answer format, are an efficient way to put powerful information in a useable format. Each slide guide holds the most critical information pertaining to the topic it focuses on. From men's health and nutrition to breast cancer awareness and heart health, there is a slider that will deliver pertinent health education information in a low cost format.

Pocket guides and wallet cards are smaller format health educational materials that recipients can carry along for convenient reference. Each pocket guide is packed with tips and easy to follow information regarding the health topic it covers. Handed out at health fairs and employee wellness events or at public awareness walks and runs, these simple guides will carry information and contact details for a range of health concerns.